Photo by Marc Norberg / Graphic Design by Fred Baisch:
Jewel Theatre was a hidden gem above Twin Cities Magic when they were in the downtown St Paul Cultural Arts District.  We produced three full evening show at this magic little theater between 2008 and 2010.
In each production I explored a different aspect of the clown archetype. In this quirky Holiday version of A Life of Serious Nonsense I of course played the White Clown again. Traditionally the White Clown is the high status clown in the circus ring, who is well above the lowly red nose August played by Rosie.
The twist in this show is that it's a play with in a play. When Rosie and I are on stage we play our traditional clown roles, but then we show the audience our relationship back-stage where our world is reversed and Rosie is in charge. I guess it's a little bit biographical.
Josette Anotomarchi did another brilliant job of directing Rosie and I in this Holiday version.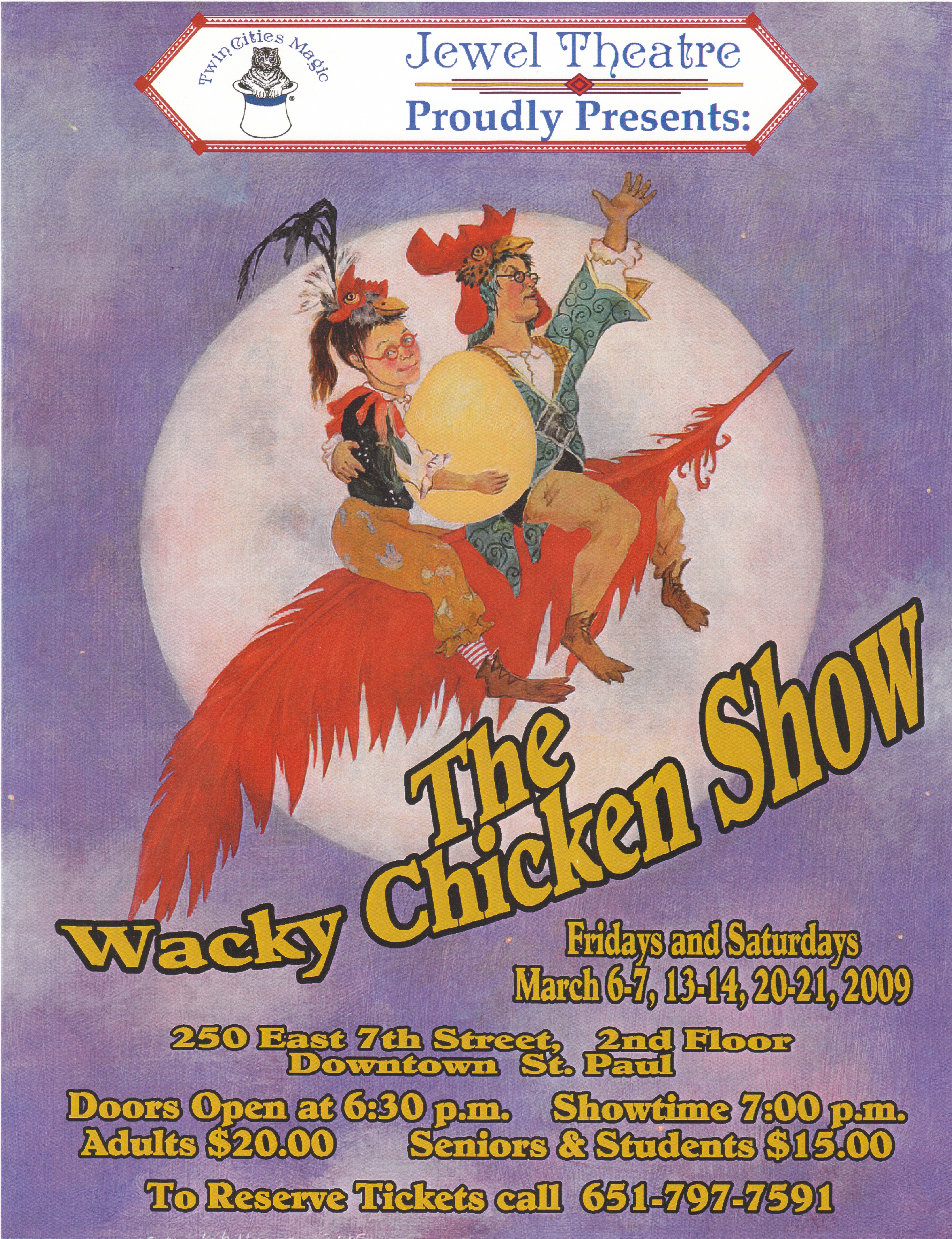 Original Art by Cate Whittemore / Graphic Design by Fred Baisch:
This show is the first time we mounted a 90-minute version of The Wacky Chicken Show. Our director Josette did a great job of bringing us deeper into our characters.
I remember we first brought this new version of the show to the Oneida Nation outside Green Bay. For a full week we taught sacred clowning to the tribal children in a school building shaped like a turtle.
At the end of our amazing artist-in-residency we performed The Wacky Chicken Show for the entire tribe. It was a profound experience performing for a community who all intuitively understood the subtext of our show. The man we brought up to lay an egg was re-named by the tribe that night. As far as I know he still goes by the name, Goose who laid the golden egg.
Original Art by Lloyd Brant / Graphic Design by Fred Baisch
I premiered my one-man show A Spirit of Halloween in October 2009.  Josette Antomarchi was the director of the show and brilliantly guided my character through a hero's journey.
It's a story of a Fool who is lost at the crossroads between light and darkness, but he finds the courage to laugh during the darkest night of the soul.
I based this show on a character I developed when I was the opening act for the Rock and Roll legend THE DOORS in 2004. I was asked to play a juggling shaman/clown whose role was to raise the spirit of Jim Morrison from the dead.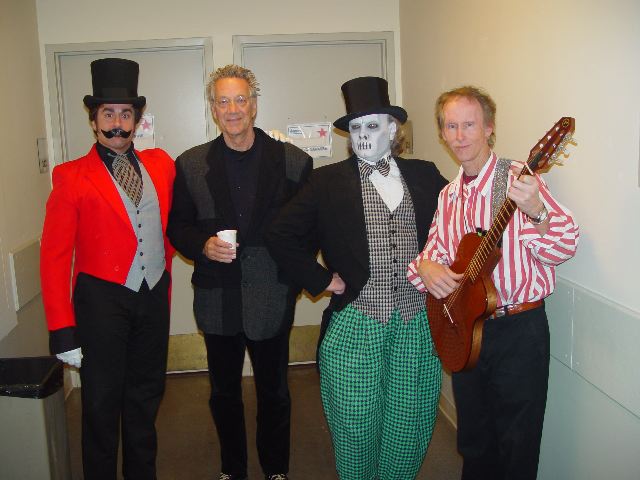 Photo by Unknown:
Here I am standing between keyboardist Ray Manzarek, and guitarist Robby Krieger of THE DOORS just before the show at the Orpheum Theater in downtown Minneapolis.