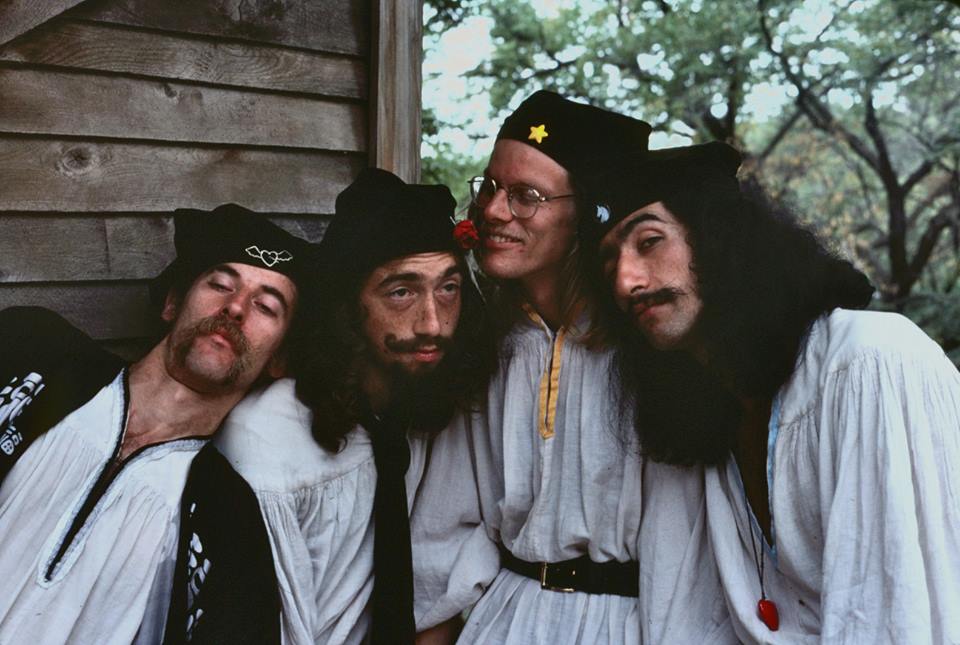 Photo by Peter Dansky:
This morning Peter Dansky, who took that great photo I posted yesterday of The Flying Karamazov Brothers sent me a second vintage photo of the FKBs. This one is from 1978, which was their last year at the MN Renaissance Festival, and their first year performing at Dudley Riggs. I'm guessing this picture behind Witchwood was taken just after their last show of the day at the Festival, and just before driving to Minneapolis to perform at Dudley's that night. Clearly burning the candle at both ends takes its toll.
Ivan who is the second from left seems to be having an especially rough day.  This afternoon Howard reminded me that he was still recovering from 5-stitches in his left thumb from an accident while rehearsing with a new set of sickles for their Dudley Riggs show.
I remember Howard describing how when he examined the wound he saw his thumb bone just before he buckled at the knees.  After an ambulance ride and 5-stitches he had to learn how to catch sickles between his ring finger and middle finger like a claw.  If he kept his injured thumb on the outside of his hand it worked pretty well, but if he let his thumb drift in he would be met with the excruciating pain of a sickle handle slamming against the tip of his wounded thumb.
Having said that, Dudley Riggs was a really important springboard for them.  Avner the Eccentric opened the show and the FKBs closed the show.  In the 1980s both act made it to Broadway, as well as star together in the movie Jewel of the Nile with Michael Douglas, Danny DeVito, and Kathleen Turner.
*<[:o)