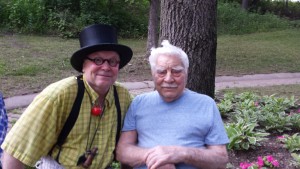 Photo by Cheryl Caponi:
I'm sitting with the artist Tony Caponi after performing my Medicine Show in the Caponi Art Park.  Tony is 94 years old, and spent the last 30 years of his life sculpting it.  Every stone in the park was laid by the artist's hand.
It was magic to perform in his park.
*<[:o)