I am currently writing a series of posts to my blog, www.LloydBrant.com, that tells the history of our EMERGENCY CLOWN NOSE®, as well as exploring the hopes and dreams for the future of our new venture, EMERGENCY RED NOSE® Productions in 2016.  Last summer MN350.org put a clown in charge of transporting all the equipment needed for a protest march through downtown St Paul against Global Warming.
Here I am that morning with my van full of all the art for the protest march to the MN State Capital against Climate Change.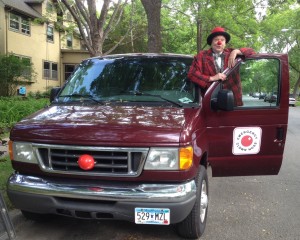 Here I am getting in my van loaded-up with protest art on my way to the march.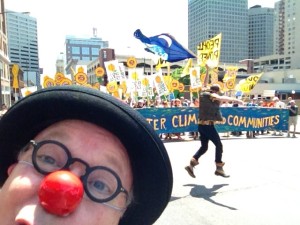 Here I am in the march. It's amazing how all that art fit in my van.