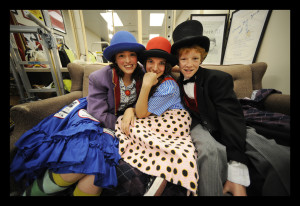 Here are a couple of pictures that photographer Layne Kennedy took of Gabe performing in the Mini-Apple Circus at a benefit that I produced for our neighbor Gabriel Grieling after he was seriously injured in a school bus accident in 2009.
The Mini-Apple Circus is a show that Rosie and I created as an after school project throughout Gabe's childhood.
Also pictured are his friends Lucy and Lilly who played clowns.  This is the only time that Gabe ever played the ringmaster in the show.
What fond memories…  *<[:o)