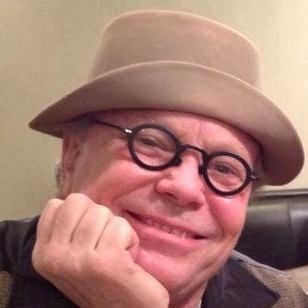 In 2020, I spent a lot of time writing. This post is a rough-draft of the first-chapter of my new book. It's a memoir telling my story leading up to producing my dream play, Land of Clowns, that premiered on April Fools Day, 2016 at Open Eye Theatre in Minneapolis.
I hope you enjoy reading it.
Lloyd Brant
THE SPIRAL STAIRCASE
I sat down with hot coffee in a large white porcelain cup, planning to spend the day writing in my favorite café. My table was indoors, in an open courtyard, below a spiral staircase with a circular guardrail designed to look like pages of a book ascending to the Loft Literary Center above me. I'd spend hours writing between my classes here. Sitting below this magical stairway served as my muse. When I was a young artist I read, Smile at the Foot of the Ladder, by Henry Miller. It's a short story about a clown named Auguste, who transfixed his audience with his radiant smile, by sitting in the center of the circus ring at the foot of a ladder, like Buddha under the fig tree. Since then, I'd been drawn to using the ladder as a symbol in my shows. This stairway was the same symbol in my imagination, but on steroids.
I felt the heft of the large mug, as I touched my lips to the warm rim, enjoying the rich flavor of strong coffee.  I opened my new laptop, it's a silver MacBook Pro. My old turn-of-the-century lime-green MacBook Pro was outdated. I purchased this one with plans to finally finish adapting my story, Land of Clown, to the stage. I began writing it back in my twenties. Plunking it out on an old portable typewriter during a national tour of my first solo clown show. At that time, I quickly learned I only had three-minutes to turn my audience's perception around 180-degrees – from what they thought a clown was – to understanding what kind of clown I was.
Most Americans in those days thought a clown was either a bad children's entertainer – a pitchman for hamburgers – or a monster.  I realized that unlike other cultures around the world, America didn't have its own mythic origin of the clown, or an understanding of the vital role clowns play in society.  My idea to fill this void was to write a story that told where clowns came from, why they're here, and why they live in circus tents.  I submitted it to dozens of publishers back then, but I didn't have any luck.
Thirty-years later, I'm finally transferring this old story to my new computer. I need to finish the job before the Winter Solstice party tonight. I'm planning to email it to the hosts, who were interested in helping me adapt it to the stage. Both the husband and wife are trained clowns. Their sons have red hair like my son, Gabriel. My vision for the lead-child-character was a red-headed boy, the same age as my son the day he told me he wanted to be a clown. Their oldest son was the perfect age, and their youngest son could grow to fill the role in a couple-of-years, giving the show longevity.
In the first attempt to mount my story to the stage, the cast consisted of my original juggling partner David, Rosie and me. We'd all met at mime school together. The show didn't work out, but in the end Rosie and I did.
Having our children attend a Waldorf School was Rosie's dream. Ours was a typical Waldorf story of a New Age mom dragging her skeptical husband to visit a quirky little startup school, that she boasted had a three-fold education where the child's mind, body, and spirit were all of equal value.
However, when I first entered the school I was struck by the haunting absence of children's laughter.  The teachers led their students through the hallways with an earnest humorless reverence, like a stoic mother duck followed by her well-ordered line of silent little ducklings.  I felt as if I was in a monastery for kids.
What finally sold me on Waldorf was visiting the Kindergarten.  When I opened the door, we were greeted with the smell of freshly baked bread. A treehouse was built in the middle of the room with billowy clouds of pastel-colored gauze draped everywhere.  The children quietly gathered at the foot of the teacher when she sat in a rocking-chair and silently lit a candle. She began telling a fairytale about garden gnomes, as if they were as real as Santa Claus. Magic crackled in the air.
Rosie and I began teaching an after-school circus arts program to offset the cost of tuition, ending in a final performance. That first year we had a dozen students. The audience sat in a half-circle of metal folding chairs set-up in the back corner of the school's Social Hall.
My secret mission was to bring laughter to what I thought was a stuffy New Age private school. Circus became an official part of the school's curriculum.  Our annual springtime show grew into a huge Waldorf community event. The hallways would fill with the sound of children's laughter in anticipation of the upcoming public performances.
In Waldorf there's many public performances that are part of the required curriculum, which now included our circus. Liza our daughter was never seduced by the siren call of the stage, but our son Gabriel from an early age said he wanted to be a clown. I taught Gabe how to ride a unicycle soon after he learned how to ride a bike. I then began directing him in a three-person-show with a couple of other talented classmates. I called it, The Mini-Apple Circus, and they were enjoying a childhood of performing shows around town.
I realized instead of publishing, Land of Clowns, my story had become my life. Our Waldorf program was like 'Hogwarts' for the circus arts. Today, circus is part of the curriculum in Waldorf schools around the globe.  Clowning is even a course offered at some certified Waldorf teacher training programs.
After nearly two-decades of teaching a generation of circus students, Rosie and I realized we had created something greater than ourselves.  I began quietly looking for a successor we could groom to take over our circus program.  A delightful man I'll call Jack, was the boyfriend of a former student of mine. I remember her as charming and talented. I cast her as one of the leads in her senior-class play at the Waldorf high school. Originally, she had come from the more orthodox Waldorf grade school across the river. She introduced us to Jack when we were performing at the Colorado Renaissance Festival, and they were enrolled at Naropa University in Boulder. She made a point of inviting us over to their house for dinner, so Rosie and I could get to know Jack.
Jack was tall with a sparkle in his eyes and dreams of becoming a professional clown. After he graduated from college, I trained him in my approach and directed him in a show I called, Cirque de la Loon, for a summer gig at a local amusement park. That same summer his girlfriend became pregnant. I convinced Rosie to support Jack getting a job at our school in the fall. She was a long serving member of the College of Teachers which decides all new teacher hires. Jack secured a position as Games teacher and eventually his wife was hired as a lead Kindergarten teacher.
We're all going to the Winter Solstice party tonight. Jack had also studied clowning with the hosts of the party when they were enrolled at Naropa University together. They all have master's degrees in the Lecoq method of physical acting. Jacques Lecoq is no longer alive, but was one of the three greats of 20th century modern French mime.
Rosie and I saw Lecoq give his famous lecture and mask demonstration at the Festival of American Mime in Milwaukee. The last mask piece he performed started by him reaching into his suit pocket and taking out a clown nose dangling on a white elastic string. He introduced it as, "The world's smallest mask." His demonstration had started with a variety of masks covering his entire face to the half-masks from the Commedia del art' which allowed the characters he created to speak. This time he put on the small red rubber nose, leaving most of his face naked, and stood in still silence. Before my eyes, Lecoq transformed every cell of his body into a clown. A woman giggled and the clown's head snapped to look at his accuser, as if to say, "How dare you laugh at me," which brought a roar of laughter from the crowd. That's the day I decided, I wanted to become a clown.
Tonight, Rosie and I were looking forward to going to a party of clowns all trained in the same method we were trained in back in the 1970s. Jack had already received my training of the key three-archetypal-characters responsible for making theater inside the ring of the traditional European circus. I define each character by their status to the other, with the lowest status characters being the clowns, which are the heart of the circus.
In my story I'm adapting into a play, each character archetype comes from a different family or clan. The clan-of-clowns with the lowest status were the Auguste family, who traditionally wore red noses. I envisioned our hosts playing the mother and father of that clan in my play. I looked forward to playing a high-status character from the family of White Clowns, in the classic French tradition. I already had the elegant costuming from a recent two-person play I wrote for Rosie and I, called, A Life of Serious Nonsense. I always play the higher status straight-man against Rosie's brilliant lower status comic characters. Developing this whiteface clown character opposite my wife's well established red nose clown has been a perfect training ground. Jack was always a little stiff playing the Auguste or White Clown for me, so I thought he'd be best playing the highest status character of the circus world, Ringmaster, the king of the ring.
We had all worked together last summer when their organization hired me to direct them for a street show at the Minnesota State Fair. They had received a grant from the Knight Foundation as part of a new program called, Arts A'Fair. It was a dream cast to direct. I remember working Saturday and Sunday nights, leading up to their Labor Day weekend appearance at the Fair.
At the same time, I was directing an unruly cast of college kids sharing the stage that Rosie and I perform on at our local Renaissance Festival. I was trying to workshop my play, Ship of Fools, but they were trying to direct me more than listen to my direction, which made for a very long day of performing together on the same stage.
I would quickly change out of my sweaty Renaissance costume into summer street clothes – then drove to a suburban industrial park – where there was an artist's studio in a garage large enough to rehearse with the antique fire truck they acquired for their show. A clown show needs the high-stakes drama of life-and-death to achieve greatness. Their choice of fire as their life-and-death dilemma was genius.
They'd open the garage doors at both ends of the rehearsal space, creating a cool cross-breeze. After a brutally hot day performing my show and wrestling the egos of college kids, I'd sit in my favorite Hawaiian shirt and straw porkpie hat, feeling my creative energy return for a night of wonderful clown adventures leading up to a delightful show at the Fair.
On the night of dress-rehearsal, we invited Jack's family to be the audience. Jack's wife walked in like Mother Duck followed by Baby Duckling with her gracefully aging Grandma Duck trailing behind. Alongside was Grandma Duck's husband, a small man wearing glasses.
I should have taken it more seriously as an omen, when Grandma Duck was recently hired as a new grades-teacher at our Waldorf school. Her husband was the reason she was leaving her old job at the Waldorf school across the river. It appears the police issued a restraining-order against him, after he served as a chaperone on last year's eighth-grade trip. It's alleged he told dirty jokes to the adolescent girls, who then went home and reported him to their parents. Orthodoxy, in any religion can lead to dark behavior in the shadows, like the reason the Catholic church was in the news lately.
The only other past history of the little man I knew was being a fox chasing the rooster out of the hen house, causing Grandma Duck to have a sleepover in the Kindergarten room with Mother Duck when she was just a baby duckling – if I can mix my fowl metaphors. All I remember was Jack's family didn't laugh a-lot during dress-rehearsal, but the shows on Labor Day weekend at the Fair went fantastic.
The grant from the Metropolitan Regional Arts Council (MRAC), I currently had to produce my play was small. MRAC funds come from the State of Minnesota, so their grant panels by law must be open to the public. Being the artist writing the grant application makes listening to the panel discussion a two-edged sword. The times you're awarded a grant it's like breathing the rarified air on Mount Olympus, but when your application is rejected the hurt cuts deep. The problem with my art-form is people think they already know what clowning is, and they know they don't like it. But lately, I'd been getting pretty lucky.
I originally came to The Loft after being awarded my first grant as a playwright. Walking up the spiral staircase breathing the rarified air was so inspiring, I invited my mother to take a memoir class with me here. Our first day of class was the first day of spring.  Mom and I were eating lunch below the spiral staircase before class. Outside, the Minneapolis urban landscape was blanketed with three-inches of freshly fallen snow. Winter had conquered spring. We're looking over the stories of her life that I had captured in twenty Sunday afternoon recording-sessions now transcribed to paper.
My plan was to inspire her to finally write the book she's been threatening me she'd write, but had never started. My hope was our class here would jumpstart Mom before it was too late.
Her idea for the book started after I finished mime school. My solo clown career was just taking off. Nine-months out of the year I lived in motels while touring my show to schools up-and-down the United States. During the summer and holidays, I lived with my parents to save money. Our family's matchbox house had a tiny kitchen with original, 1950s blond cabinets offset by 1970s earth-tone wallpaper, a yellow refrigerator, and a brown enamel stove. During the rare moments my busy mother was home in the kitchen, I'd juggle apples, plates, and raw eggs to amuse her. One day, I pulled out three carving knives. When I threw them in the air, the spinning stainless-steel blades glittered in the light, blinding my eyes from seeing the wooden handles. Mom ran out of the kitchen screaming as I danced around the thirteen-inch blades landing around my bare feet. From the safety of the dining room, Mom declared, "Someday I'm going to write a book called, 'The Mother of a Clown.'"
Recent events had caused our family to worry about her.  It started the day she hit her head when slipping on the ice walking to her car.  After a stay in the hospital, she seemed to recover, but soon she was told to give up her driver's license. I felt my time with her slipping away.
Mom still seemed spunky, but she was eighty-eight-years old.  After lunch, I didn't think my mother could handle the spiral staircase, so we took the elevator up to class.  The trouble began during the starting exercise when the teacher asked all of us to write down our first memory.  For the first time in my life, I witnessed my mother the scholar struggling with a pen and paper. Later, I would learn she was suffering from early Alzheimer's disease.  That day, the class teacher gently pulled me aside and told me that it was up to me to write her book. The task of being her Spiritual Advocate became suddenly real that day. This will be the greatest lesson my mother ever taught me.
I come from a long line of teachers. My grandmother was a Kindergarten teacher.   Mom was a leading Minnesota pioneer of Adult Basic Education, empowering generations of high school dropouts to achieve their GED. She's my role model for what a great teacher does – change the world one student at a time.
The founder of Waldorf education, Rudolf Steiner believed in hiring professionals-in-the-field to teach their unique expertise – enabling me to teach circus for twenty-years alongside Rosie. I was always humbled by my wife's natural gift as a teacher. Eventually she pursued her full teacher certification in Waldorf education.  I've never witnessed anyone better with children than Rosie, especially the young ones. On the day of 9/11, she was asked to substitute in the Kindergarten. All afternoon she was playing with kids inside a magic bubble, while our country outside was in chaos. I realized that day, caring for children was the perfect place for my wife to serve when the world was going to hell.
In 2012, Rosie and I were honored to receive, The Minnesota Private and Independent Education STORY AWARD, for our Waldorf Circus Program. It was a nice ending to our teaching career together. Jack was taking over the program next year.
Unfortunately, as the time approached Rosie and I hadn't been able to work with Jack as closely as I'd hoped. Every spring when we were deep in rehearsal for the annual performance, he was out-of-town getting his Waldorf teacher training. Our final year, he finished his training just-in-time to help us direct our last circus.  For the finale of the show, Jack and I performed an under-rehearsed ceremonial passing of the golden juggling clubs.
The next year, Rosie and I helped Jack with his first circus.  I observed him earnestly enter each rehearsal like an Evangelical minister, passionately preaching to the children.
I pulled him aside, attempting to reveal my secret mission of bringing humor to Waldorf schools. Jack turned to me with a perplexed look, "Waldorf Schools are humorless?" I looked in his eyes and saw the sparkle had vanished – replaced by a familiar glassy-eyed-stare.
I needed to move on to the next chapter of my life. My vision was to write a series of circus themed plays that take place in my, 'Land of Clowns,' universe. I wanted to cast it out of the pool of talented students we'd trained over the years. I already set-up a fiscal-agent relationship with our Waldorf school to receive grants for, Fool's Productions, a fledgling nonprofit organization Rosie and I were starting up. My plan was to hold rehearsals in the building after school.
Being married to a writer wasn't easy. Rosie's father was a writer for The New York Times, so she understood. She missed teaching children, but every time she applied to teach in the Waldorf early childhood program she was passed over for the job. It was a mystery who could possibly be blocking her from employment at a school she had played such a crucial role in building. Out of the shadows appeared Jack's wife, pulling up the ladder we had loyally held for her and Jack, out of Rosie's reach.
My grants began drying up. Going back on-the-road wasn't a short-term solution because all the festivals book several years out. We were on the verge of losing our family's health insurance and were behind on our house mortgage. Jack and his family had bought a house on the next block. I felt like we were living in a bad horror movie.
When Jack's wife was a student at the Waldorf grade school across the river, her teacher held the orthodox belief that children must work out their karma by themselves in the schoolyard. In Waldorf, a single teacher leads the same class of students through their entire journey from first-grade through eighth-grade. Jack's wife was known to be the teacher's pet and the class bully. When my wife confronted her about the betrayal, she told Rosie she was responsible for her own karma. I guess the adult version of a Waldorf schoolyard bully is when they stab their neighbor in the back and their neighbor turns to face them, they feel they have the license to say, "It's your karma."
My computer notified me the battery was almost dead and I quickly plugged it in. One reason this was my favorite table was because here under the spiral staircase was the only electric outlet in the entire café. I sat back down and picked up a cold cup, tasted bitter coffee, and placed it back on the table a safe distance from my computer. My finger hovered above the send-button of my email to tonight's hosts with my freshly transcribed story attached. I wondered, if we truly live in a freewill universe, then we are each responsible for the consequences of our personal actions. But, if we live in a predetermined universe, who has the power to be judge-and-jury over the karma of someone else's destiny?
Was it karmic destiny or pure chance, why I was sitting at that table the moment a young electrician came bouncing down the steps above me? A nine-inch pair-of-pliers with baby-blue-handles bounced out of his tool belt, slipping between the white panels that made the guardrail look like a spiraling book.
The crown of my head exploded in pain, as I hear the rattling of a coffee cup.  I looked up trying to find the idiot from the second-floor who dropped a coffee cup on my head, just as someone tapped me on the shoulder.  I turned to see a young electrician wearing a tool belt.
He asked, "Are you okay sir?"
I answered, "I'm fine, except some idiot dropped a coffee cup on my head."
The man pointed to my table and said, "It's my fault sir."
I looked down and saw a huge pair-of-pliers with blue handles between my coffee cup and open laptop.  I'm oddly relieved my new computer is undamaged. Another man approached me, identifying himself as a doctor. I removed my porkpie hat and blood poured down my face.
For the next few-minutes the café around me spiraled into chaos.  I ended up with an ice pack wrapped in a wet towel on my head, and a fresh cup of hot coffee beside me.  My face was freshly washed and most of the blood in the café had been scrubbed clean. After a careful examination, the doctor found a gash the same size as the tip of the pliers, but he didn't see any need for stitches, and he didn't seem to be worried about any other damage to my head. Proving I have the skull of a cartoon character. Before the doctor left, he recommended I see my own doctor the next day to follow-up.
The young electrician confessed it was his first day on the job. Ironically, he was there to install electric outlets for all the other tables in the café.  He politely told me to wait here until his foreman arrives to give me his company's insurance information.  I had nothing to do, so I opened my freshly recharged computer. Holding the icepack to my head with one-hand, I double clicked on the file named, Land of Clowns, and began editing.  With a surprisingly nimble imagination – I started to re-mold the digitalized words like soft clay – transforming my old hand-typed story into something fresh and new.
I now claim, "Ever since a pair-of-pliers fell on my head…  I've had my best ideas."
*<[:o)