Photo by Marc Norberg:
Josette Antomarchi has been Rosie and my director since 2002.  Between 2002 and 1992, when I had been a director at Disney, was a period of personal artistic transformation. The magic spell that Disney casts left an indelible mark.  I created a series of post-Disney one-man shows where I played a personified egg, which eventually hatched into the Wacky Chickens in a kind of Daffy Duck kind of way.
I toured my new one-man shows to Fringe Festivals across the USA, as well as performing them at local venues like the Bryant Lake Bowl Cabaret.  When it became time to incorporate my new ideas into a show with Rosie, I realized that we now needed a director. Most variety performers never use a director, so by default the audience becomes their director. If people laugh you keep it, if they don't laugh you throw it out. But what I wanted for Rosie and I was the same kind of outside director's eye that I had been providing to a growing number of other variety artists after my time at Disney.
I remember telling Rosie that I thought the perfect director for us was this little French powerhouse of an actress named Josette.  She was one of the founding members of Theatre de la Jeune Lune, which began as a bi-lingual theater that spent 6-months in Paris, and 6-months in Minneapolis. When Jeune Lune settled permanently in Minneapolis, Josette moved back to France to study with Peter Brook, and eventually became a marque member of Theatre du Soleil in Paris.
When Rosie and I were performing in a benefit for our friend and neighbor Kevin Kling after his motorcycle accident, we went to change into our chicken costumes, and were surprised to see standing in the center of the dressing room, Josette covered from head to toe in feathers.  It was clearly an artistic match made in heaven.
Below are all of our shows that Josette has directed.
Original Art by Cate Whittemore / Graphic Design by Fred Baisch:
The first show Josette directed was a full evening version of The Wacky Chicken Show. She brilliantly guided Rosie and I to achieve one of our best works together. Thanks to a grant from the MN State Arts Board we were able to capture the show on DVD.
Photo by Marc Norberg / Graphic Design by Fred Baisch:
A Life of Serious Nonsense is the second show of ours that Josette directed, after we were awarded a second grant from the MN State Arts Board. I wrote the show as a play within a play.    When Rosie and I are on stage we play our traditional clown roles, but then we show the audience our relationship back-stage where our world is reversed and Rosie is in charge.
I guess it's a little bit biographical.
Original Art by Lloyd Brant / Graphic Design by Fred Baisch
The third show Josette directed was my one-man show, A Spirit of Halloween.  It's a story of a Fool who is lost at the crossroads between light and darkness. I based this show on a character I developed when I was the opening act for the Rock and Roll legend THE DOORS in 2004. I was asked to play a juggling shaman/clown whose role was to raise the spirit of Jim Morrison from the dead.
Check out my blog post tomorrow for more details…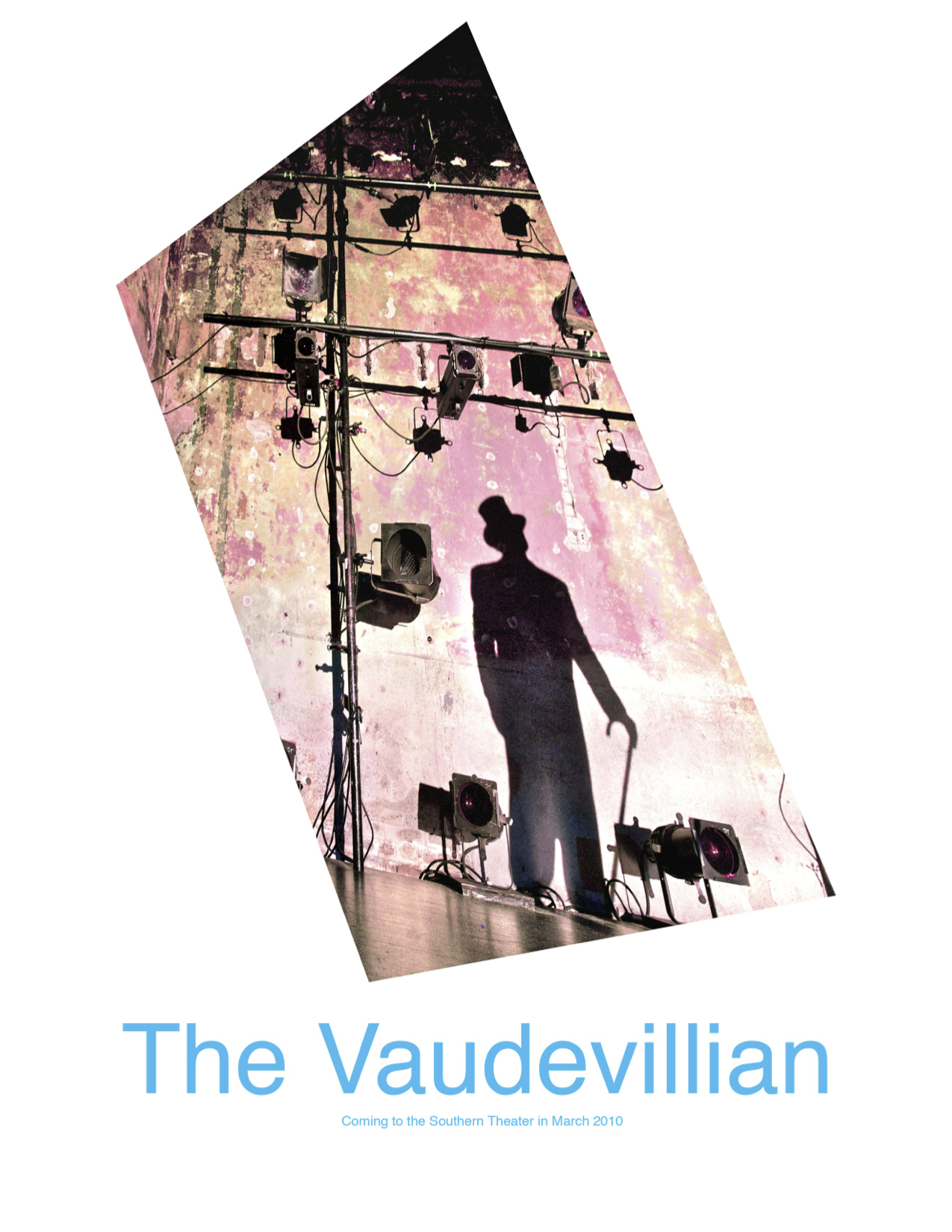 Photo and Graphics by Marc Norberg:
THE VAUDEVILLIAN was the fourth full evening show that Josette has directed for us.   In 2010, I was commissioned by to write it for the Southern Theater's 100th anniversary season. This was my first play that required words, so I approached my neighbor, friend, and master storyteller Kevin Kling, who agreed to collaborate with me on the script.
The show was based on the original vaudeville show that played the night that the Southern Theater opened its doors in 1910. When I looked at the original line-up the only woman on the bill was named Rose. The play was about the spirits of these original cast members returning to the stage 100-years later.
Josette is currently directing me in a new one-man medicine show that I've been developing for the past couple of years.
To be continued…
*<[:o)