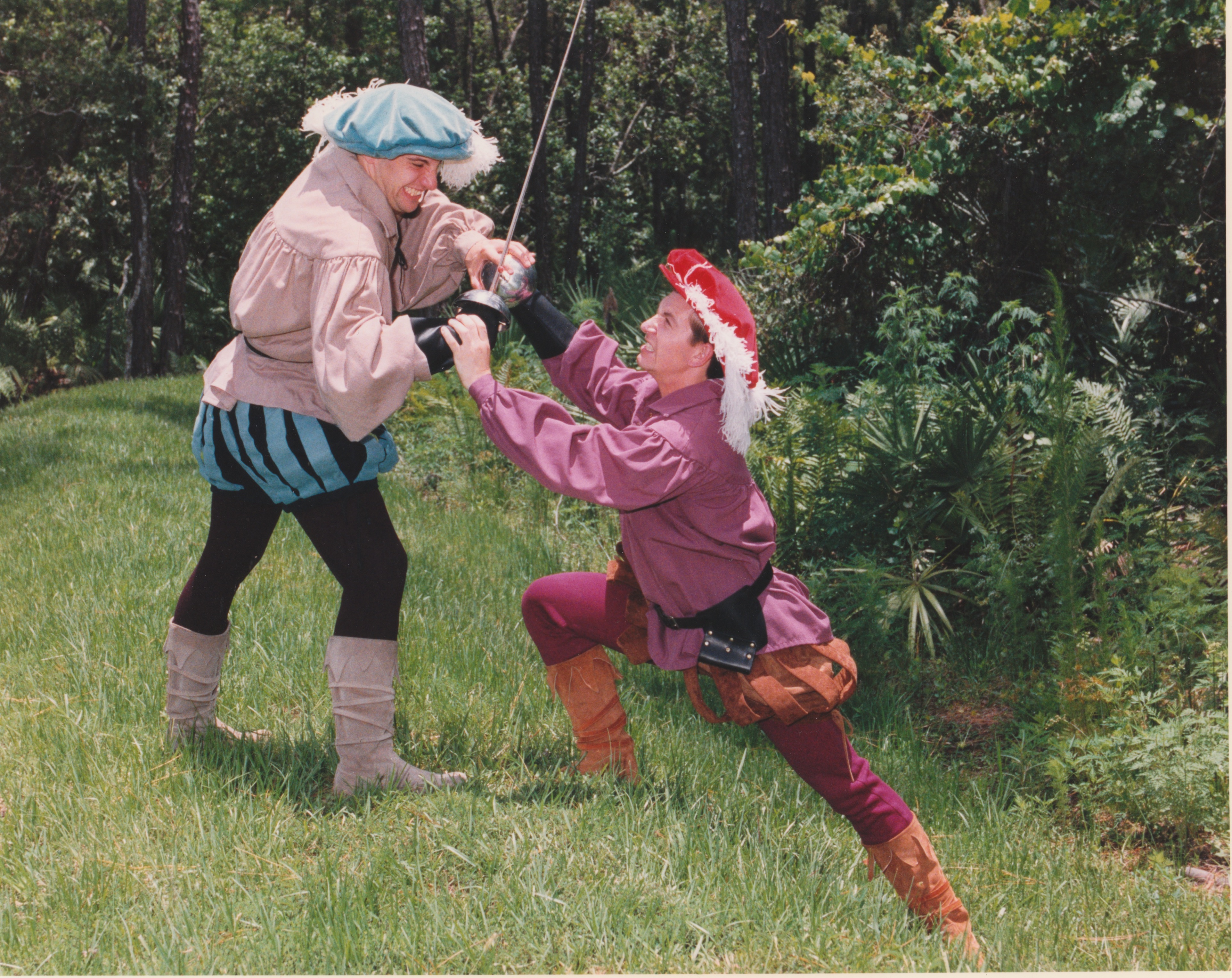 Disney Photo 1992©
As I mentioned a couple posts back, Mark Sieve from Puke & Snot is the person I credit for my dream gig at Disney back in 1992. Pictured here are Redgrave & Scrout a comic sword duo that Mark Sieve wrote, and then flew down to direct.
On the left is Bill Larkin playing Redgrave, and on the right is Jake Lockwood playing Scrout.  Both actors were dedicated professionals, and a pleasure to work with.
While working at Disney I learned what a strong influence Renaissance Festivals have had on Disney theme parks.  In staff meetings I was told that EPCOT's design was patterned after the layout of a Renaissance Festival. I remember when EPCOT first opened back in the 80s they hired many Renaissance entertainers to perform trunk style shows, and later in the 90s Disney coined the phrase Streetmosphere to describe the type of interactive theater that Renaissance Festivals have been successfully doing since the 60s.
The Disney Entertainment Arts Festival that I directed took place in the old Disney Village, which was a non-gated shopping area. I was basically asked to produce a miniature Renaissance Festival with roaming Streetmospher characters, and stage shows like Redgrave & Scrout, a Puke and Snot style show that Mark had to tame down for Disney.
Both Bill and Jake are each still working in the entertainment industry. In fact I'm proud that almost all of my former Disney apprentices are still working in show business today.
Disney Photo 1992©
Bill Larkin is currently living in Chicago, and performs at a dueling piano bar. Bill has always been nosebleed funny to me. Backstage he loved to sing the comic songs he wrote. The last time I saw Bill was when we were both performing at the Orlando Fringes Festival in 1995. Bill performed at his piano, and sang his comic songs. As always he was brilliant.
Disney Photo 1992©
When I first met Jake, he had just graduated with a theater degree in stage combat, so he really brought solid technique to the sword show.  I'm sure he's still bringing his "A" game to everything he does. In fact he just finished a stint as the associate show director for the big Star Wars Weekends in the park leading up to the upcoming movie release. I can only imagine the light saber choreography he's been creating for Disney.
To be continued…
*<[:o)